During the recent Birmingham Made Me Design Expo at Millennium Point, I attended a session where we made things using the Makey Makey as part of BMM's DO Programme.
I love this piece of kit.
It is an invention kit that turns everyday objects into input devices. I think that's its charm. Its connection to everyday objects not only makes the innovation process simple, it enables you to think in the most creative and imaginative ways.
MaKey MaKey – An Invention Kit for Everyone from jay silver on Vimeo.
How it works is really simple! Using an alligator clip, connect two objects, for example a pen and paper to the Space area on your MaKey MaKey. When the pen touches the paper, you are making a connection, completing the circuit and this sends your computer a signal that the space bar has been pressed. Because your computer thinks its a genuine keyboard press, you can use it with any program.
Basically, whether you an artist, educator, hacker, designer, inventor or just a big kid at heart, this piece of kit is designed for everyone.
The Makey Makey should be made an essential piece of kit for anyone considering the options for new ideas and fun.
As for the event we attended, in our session, we were given 6 main ideas to work on and make things accordingly:
Our group made a pet training device to train dogs in pooping in the right place i.e. outdoors.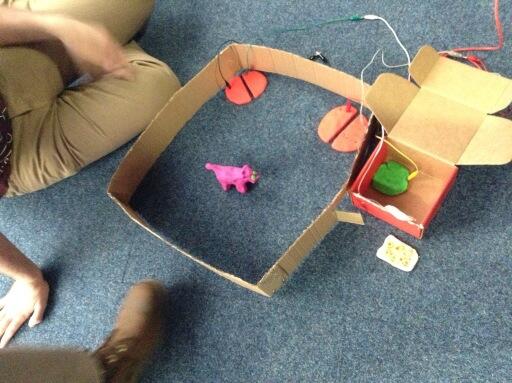 If you have a puppy, I'm sure you'll relate to this.