Welcome to this week's At The Flix. In a busy week, we look at Marvel's latest comic adventure Deadpool, observe Will Smith fighting the cause for medical advancement, bask in the fashionista glory that is the return of Derek Zealander, observe a mashup of Jane Austen and zombies and realise that Ralph Fiennes can really dance!
Deadpool (15)
Marvel seem to back in their A league territory with this latest and altogether more adult adventure. Ryan Reynolds plays Wade, a former Special Forces operative who on facing a critical life decision is offered the alternative 'get out', to become part of a rogue experiment leaving him with accelerated healing powers, becoming Deadpool.
Reynolds clearly laps up the opportunity to be the 'reluctant' super hero as the film's meta tone, knowing, self-aware humour, and fourth wall breakages sees Marvel side with a style of dark comic cartoon that we have seen previously in the first Kick Ass.
If comparisons are to be made then Reynolds takes the mouthy, swagger of the Downey Jr hero model and turns it up a notch through providing a foul-mouthed, blood spilled realism that adult audiences will largely lap up.
Crude, sly and very much cartoonish – perhaps this is the Marvel movie that Marvel actually needs!!!
Zoolander 2 (15)
It was only a matter of time, albeit 14 years, yet I think the cinema is ready again for a blast of Derek Zoolander's warped fashionistic wisdom!
In No.2, the setup is a simple one, as Messrs Stiller and Wilson return as Derek and Hansel begin modelling again, when an opposing company led by Will Ferrell's Mugatu attempts to take them out from the business.
The first film has turned out to be very prophetic in its portrayal fame and vanity, for example, the prediction around selfie culture. At the time this was relatively cutting edge, partly because it had something to say and that it wasn't dumb.
Given the way the world is, I think there's never a shortage ammunition through which Stiller, Theroux and the other scriptwriters can take aim at! The satire, at least for me, is far more interesting than any plot angles – and here's to also hoping the film keeps its sense of 'fun' and actually also funny.
A Bigger Splash (15)
This week's most interesting looking film is set in Italy – a story of pent up desire, jealousy and rock and roll.
Tilda Swinton plays a rock legend called Marianne Lane who is recuperating from a voice related illness with her partner Paul played by Matthias Schoenaerts when an iconoclast record producer and old flame Harry played by Ralph Feinnes unexpectedly arrives with his daughter Penelope and interrupts their holiday. Harry brings nostalgia and recollection – and the dynamics of relationship boils up and over under the Mediterranean sun.
There's an brooding excitement and anticipation at the heart of pairing Swinton and Fiennes together as two ex-lovers – with sexual tension simmering around the swimming pool, comparison must be made to Francois Ozon's excellent 2003 film Swimming Pool.
If that's a comparator, then I'm sold.
Concussion (12A)
In this awards season, Concussion ticks many of the boxes which get rewarded with gongs, at least on paper. Will Smith plays a forensic pathologist who on conducting an autopsy on a former NFL football player discovers neurological deterioration similar to Alzheimer's disease.
The film covers the doctor's crusade to raise awareness of a disorder called chronic traumatic encephalopathy –   otherwise known as football-related head trauma.
This is a message movie with an earnest story, a bit of a corporate wrongdoing thriller thing and in Smith, you'd usually expect him as epitome of a likeable lead for the mission!
Yet despite all of this, the critics haven't gone for it.
Pride And Prejudice And Zombies (15)
Keeping the 'knowing', 'meta-ish' theme going, another big film for this week is a kooky genre mashup blending one part costume drama, one part zombie fest.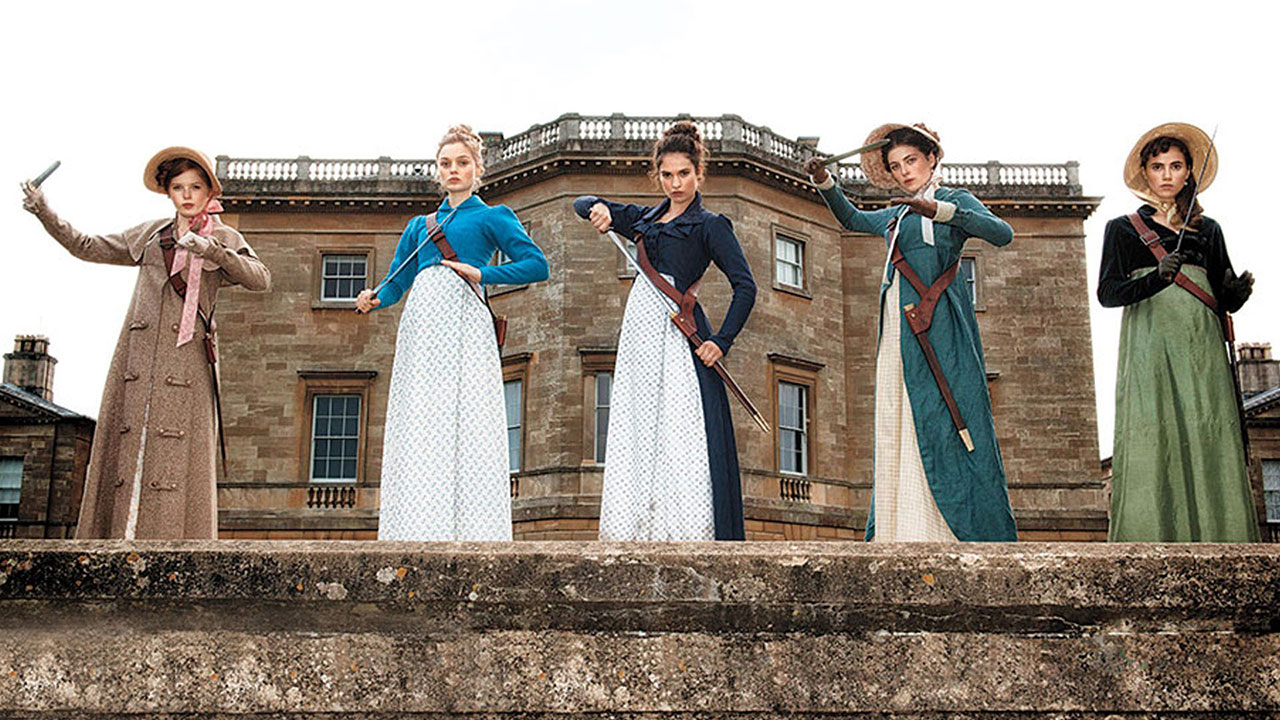 Based on Seth Grahame-Smith book, this is a film aspiring for B-Movie status – blending dark horror comedy and a cast of young British talent, led by Lily James .
The setup is made for the teen audience and those kids studying Jane Austen will go along to see what aspects of the book make it in whilst really going for fight sequences and a hint of gore.
Add the mix Charles Dance as Mr Bennet and Matt Smith as a standout Mr Collins, and there's an element of fun to perhaps be had. That said, Grahame-Smith's Abraham Lincoln: Vampire Hunter got adapted a few years to less than satisfactory results.
With its aspirations for a younger crowd, this doesn't feel like a film for the hardcore horror fans, and it might be that any gore violence is kept off screen.
The jury is out but one expects it to be a rip-roaring success box office wise.
Alvin And The Chipmunks: The Road Chip (U)
As half term is approaching – we're starting to get the family films creeping in – starting with another big screen adventure for Alvin and the Chipmunks and they're are off on a road 'chip'.
This is the fourth big screen adventure for The Chipmunks, and the film can be summed up by one reviewer stateside, "puns that can be constructed from "chip" or "munk" represent roughly 80 percent of the creative inspiration."
If you know the Alvin and the Chipmunks then you know exactly what you're getting.
It's Valentines Day this Sunday, so expect a few one off films. For example, the mac, yes the mac, are showing Dirty Dancing (15), not once but twice. They know their audience.
The Electric have been doing a great season of classics as part of their Cinematic Time Machine season. On Saturday, they move to Birmingham Cathedral for a silent movie night to showcase the comic genius of silent star Harold Lloyd in Safety Last!. Laugh-out-loud funny and jaw-dropping in equal measure, this very special screening will feature live organ accompaniment from David Ivory, and will also be preceded by the 1920 Buster Keaton short One Week. Worth booking early for. Watch out also for a showing of Gone With The Wind too at The Electric on Sunday.
So that's it from me. It's a very busy week at the cinema, so whatever you go and see, be sure to tweet me your thoughts at
@timmy666
.
Watch out also for my weekly appearance on
Paul Hadsley's Happy Talk
on Mondays on
Brum Radio
between 12pm and 2pm where I shall discuss film, tech and anything else geeky.
Have a great week at the cinema!